Features such as texture and firmness are important when we talk about food products, moreover water migration, off-color and off-odor are factors to be considered. Handary provides two different products to effectively solve these textural issues of food products. TGzyme™ a microbial transglutaminase, useful to improve texture and firmness of structured meat and fish. Trehalox ™ Crystalline Trehalose that can reduce moisture migration and prevents off-flavors and off-texure in frozen foods.
TGzyme™
TRANSGLUTAMINASE
DESCRIPTION
TGzyme™ is microbial transglutaminase (MTG) isolated from a variant of Streptomyces mobaraensis that forms covalent crosslinks between protein molecules. It is applied in restructured meat to improve their characteristics, such as gelation, water-binding, emulsion stability, purge loss, cooking loss, etc.
KEY BENEFITS
• Improve texture, firmness, gelation and water binding
• Natural, Aid-processing
APPLICATION AREAS
Structured meat and fish.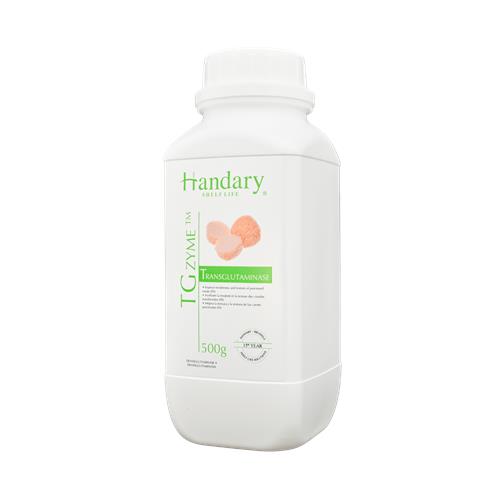 Trehalox™
CRYSTAL TREHALOSE
DESCRIPTION
Trehalox™ Crystalline Trehalose is a naturally occurring disaccharide with unique benefits for freshness extension by limiting water immigration, off-flavor and off-texture development in a wide range of frozen food applications.
KEY BENEFITS
• Anti-staling
• Reduces moisture migration
• Increases freeze-thaw stability
• Exclusive color retention
• Prevents off-flavor and off-texture
• Shelf life extension
• Natural, Friendly label
APPLICATION AREAS
Frozen foods (Frozen dumplings, Frozen desserts, Frozen vegetables).